Honest Food Cooked Over Fire
WEST COAST FARE × FAMILY RUN for generations × REAL HISTORY
Reservation Info
DINNER Reservations are taken FOR SEATINGS
at 5:00pM, 6:30pm, & 8:30pm.
Duration of reservations are limited and enforced due to the size of our business.
We have 5 booths and three tables so reservations are usually for 4 or more only.
We have a 30' long antique bar down the center of the restaurant that serves as a giant dining table. Seating at the bar is on a first come first served basis. We will take your name and reserve the next available spot once you arrive. Cornell Winery & Tasting room is next door, and serves as a waiting area for our guests.
Payment
We accept CASH, MasterCard and Visa. We do not accept American Express!
Directions
RESERVATIONS for dinner & brunch
Phone 818.706.9001, or Click Here to email. We try to respond within 24 hours to email inquiries.
Location
Hours OF OPERATION
Closed Monday, Tuesday & Wednesday
• BREAKFAST •
Saturday & Sunday only
9am - 2pm
• LUNCH •
Saturday & Sunday only
11am - 4pm
• APPETIZERS •
Thursday - Sunday
4pm - 5pm
• DINNER •
Thursday - Sunday
5pm – 10pm
11pm last call, we close the doors at midnight.
Private Gatherings
The Old Place is available for Private Gatherings on Mondays, Tuesdays and Wednesdays. For more information or bookings please email Private Gatherings At The Old Place.
Things You Should Know About The Old Place
One thing that is important to know about our little gem is that we are just that, LITTLE.
Seriously, we are the size of a shoebox. What does that mean to you? You have to go outside to get to the bathroom, it's loud inside, we have to use somewhat unconventional methods to accomplish our goal, and we need to direct people in all aspects of their visit to make it work. The best thing about it is that we are honest, hard-working people that will do their best to make sure you enjoy your visit.
We have been in business for 45+ years and we hope that you are not offended if we do not change the way we do business for you. We sincerely love to interact with our customers, and forge long-lasting relationships as we all love the Old Place with a zeal that is not often found in today's climate. With 5 booths, three tables, The Mailroom and bar that runs the length of the restaurant. Our seating times are designed to accommodate our customers.
Dinner reservations available at:
5:00 seating allows and hour and a half for dining, please don't be late.
6:30 seating allows for two hour dining.
8:30 seating, no time limit.
We do not have a freezer
...nor do we have an abundance of storage space, therefore we run out of things. It is very difficult to gauge how many orders of clams, bone-in-rib eyes and or fish specials will be ordered before you arrive, so if this is something that you just can't deal with then I suggest you try one of the multitude of chain restaurants that have all of their food delivered frozen and have a warehouse in the back. Here at the Old Place we have no other choice but to offer you one of our other delectable offerings.
Our bar is a first come first served scenario.
The good news is that we are located in one of the most beautiful places on earth, so having to wait outside - weather permitting - or better yet at the Cornell Winery, which sits just next door, is a perfect scenario. We do not allow our patrons to wait inside the restaurant, as there isn't enough room for us to work and navigate around you. We have a bar wait list that we will place your name on, and then seat as space become available. As seats become available at the bar we will come find you out front or inside the Cornell Winery.
If anyone gives you a wait time, please understand that this is only an estimate. We have no way of knowing how long it will take as we do not have seating times at the bar, and we can only guess when people will leave. You are more than welcome to come back and check where you are on the list at anytime.
Please be quiet! We are located smack dab in the middle of a residential neighborhood. We have signs everywhere asking our patrons to please not yell across the parking lot. Respect is an important quality in people, and we hope that you exercise yours when you visit us. Our neighbors are truly unique people that have fallen in love with the serene beauty that our area offers, and we would like to protect their serenity as much as possible.
The Story of Tom Runyon & The Old place
THE BACKGROUND
The story of Tom Runyon and The Old place began on Tom's train ride out West to join the rest of the Runyon Clan who had made the journey from New York. In those days, coal was on the decline, and this motivated the coal baron Runyons to try their luck in Southern California. Tom's childhood days were spent roaming the hills, the family canyon (Runyon Canyon), and the avocado orchards then being farmed in Hollywood. Later, in his teenage years, he would raise falcons for hunting, and run a trap line in the local hills for game and pelts - Tom was developing his taste for the local fare.
During the late '30s as 'town' became more populated, Tom's mother Cornelia Runyon moved further westward to the remote outskirts of the Malibu coast, and built the still extant Runyon House. Cornelia - widowed at the time - had taken up stone sculpting and entertaining the emerging L.A. art and film crowd at her cliff-side home, giving Tom an understanding of what it took to captivate a crowd.
When the skies darkened and war loomed, Tom enlisted in the Air Corps and served in North Africa during WWII. After the war, Tom remained in the Air Force, rising to the rank of Major. Tom saved his money while in the service, and after returning to civilian life began to purchase land in Malibu. At the remarkable price of $38 an acre, he was successful and able to sustain himself financially.
Tom became friends and land partners with Dudley Murphy who had just opened the Holliday House Restaurant & Hotel at the site that is now Geoffrey's. The Holliday House gave Tom a taste of the restaurateur's lifestyle. At this time, Tom was living on the Santa Monica pier above the merry-go-round. Tom, known for his wild, eclectic parties, was soon to marry the love of his life Barbara, an artist with her own colorful story.
Seeking a new adventure, Tom set out into the hills he loved and came upon the shuttered Hank's Country Store & Cornell Post Office, which he perceived as a gem in the rough - rough meaning not just the condition of the building. In the '60s the Cornell area was not what it is today. Hillbillies, cowboys, and good hardy folk were the locals. Spotting a potentially great opportunity, he promptly bought the building, and began the gradual process of opening The Old Place.
The Premier
Renovations of The Country Store & Post Office took a few years, but finally The Old Place was ready for its debut, opening in 1970 with a cast of characters that would call it home. The Old Place attracted a wide variety of patrons from old Californian families to local Malibu stars seeking a unique crowd where everyone was treated the same. A collection of movie stars, tractor operators, outdoorsmen, artists and everyday folk mixed in the small space, and magic was created. This was the soulful heart of what we cherish today – the spirit of the place with its core of honesty, personality, and humanity. On opening night 1970 - with a wild boar on the grill hunted in Big Sur and drinks flowing - The Old Place began to fill with the smoke that gives us our flavor today.
As time passed and the restaurant thrived, Tom continued to build on the surrounding land, fleshing out his original vision of creating a place where time was a bit wound backwards. It took awhile, but Tom built the two adjoining buildings alongside the restaurant, the whole family pitching in on the construction. Even today improvements to the property are continue. For example, tile work by Alessandra Runyon's studio can be seen detailing some of these new projects and outbuildings. Through their efforts, the Runyons have now partially resurrected the hamlet of Cornell, an unusually beautiful and quaint town that is constantly evolving.
Today
Today, Tom's son Morgan Runyon proudly continues the tradition his father originated.
The Old Place combined with the Cornell Winery and Charme d'Antan Antiques offers a beautiful, memorable, and one-of-a-kind dining experience.
Gift Certificates Good As Gold
GIFT CERTIFICATES Can be purchased and redeemed at The Old Place.
Our Gift Certificates make great, unique gifts. Many appreciate our original, one of a kind, trophy-like, sculpture certificates so much they never redeem them for a meal, but keep them for their mantle! It's as if you're taking a bit of the Old Place home with you. However, like money, you keep it or spend it - not both.
Supply can be limited, and is always changing.
The Old Truck Coffee & Store
ARTISANAL COFFEE SERVED FROM A TRUCK
8:30 am - 4 pm Saturday & Sunday
While waiting for brunch at The Old Place, you can now enjoy artisanal espressos, out back at The Old Truck. Yep, we salvaged Alfie's old farm truck from up the hill and converted it into our coffee house and store. Serving locally roasted 10 Speed Coffee and a selection of drinks and fresh baked goods. Come by and soak up our oaky-smoked food at The Old Place, and freshly brewed coffee and espresso at The Old Truck.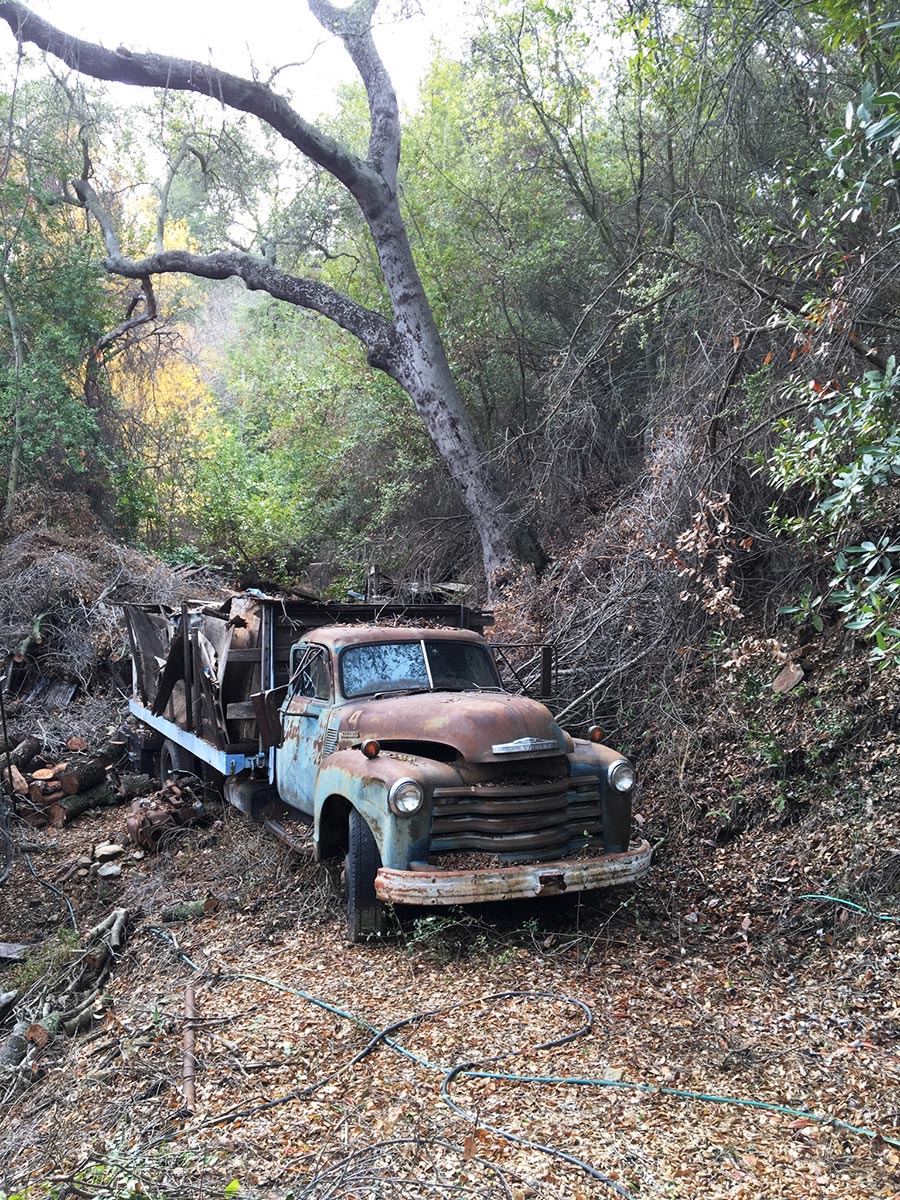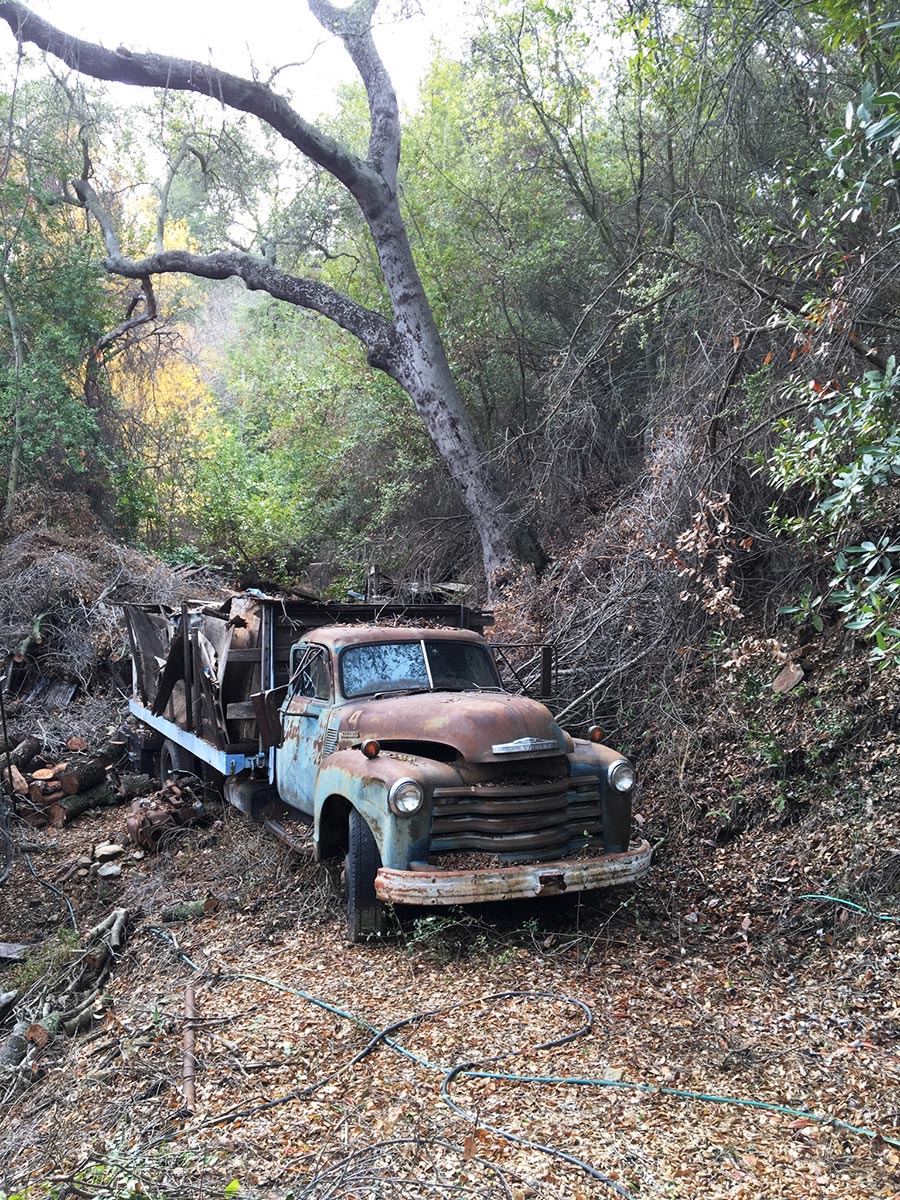 The Mailroom is our private dining room at the Old Place, which can seat from 9 to 12 people. The Mailroom is loaded with history as it was home to the original sorting table from the Cornell post office, which the building housed prior to the Old Place Restaurant opening in 1970. Once the room served as a poker room for Tom and his friends to play a friendly game, today it's one of the most unique private dining rooms in Los Angeles!

The room is lit by an antique chandelier held in place by a 100 year old mariner's chain, and lots of candles. The ceiling is covered with rustic pieces of recycled metal, and the walls are adorned with original art painted by the matriarch of the Runyon family, Barbara Runyon.
For parties larger than 12, we can accommodate you in the main dining room by reserving your required number of booths and / or tables for your party. Be reminded that you will be separated by the five foot walls of each booth - but not to worry - the informal personality of the Old Place stills lends itself to a lively atmosphere for our guests.

We are willing to rent out the restaurant, but really only on Monday, Tuesday, or Wednesday.
The mailroom seating times are 4:30, 6:30, and 8:30 for dinner. For brunch, please call.
For inquiries about larger parties please email us at OLD PLACE CORNELL RESERVATIONS.